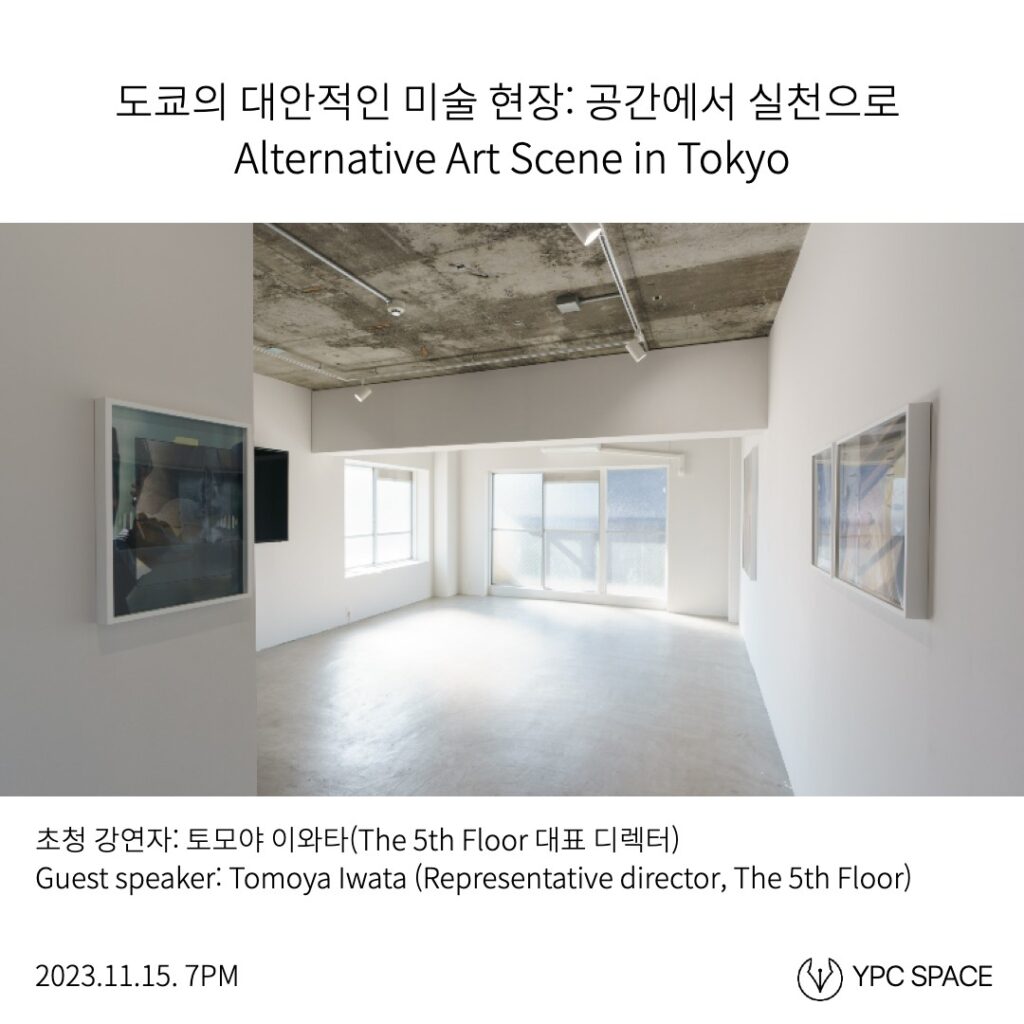 [토크] 도쿄의 대안적인 미술 현장: 공간에서 실천으로 

일시: 11월 15일(수) 오후 7시
장소: YPC SPACE (서울시 중구 퇴계로 258 4층)

큐레토리얼 실천에 매진하는 도쿄의 독립 공간 The 5th Floor*의 대표 디렉터인 토모야 이와타*를 초청하여 도쿄의 독립 미술 현장을 살펴본다. The 5th Floor의 사례를 중심으로, 도쿄의 대안적인 미술 현장의 역사를 살펴보며 물리적인 '공간' 중심에서 '실천' 중심으로, 나아가 다중적인 대안(들)로 나아가는 궤적을 추적한다. 토크 이후에 옐로우 펜 클럽의 멤버와 함께 도쿄와 서울의 독립 공간 현황을 함께 놓고 대화를 나눈다. 

*토모야 이와타(b.1995, 아이치, 일본)은 도쿄예술대학 글로벌 아츠 대학원에서 석사를 졸업하고, 현재 큐레토리얼 공간인 The 5th Floor의 대표 디렉터다. 큐레토리얼의 역사를 연구하며, 전시 만들기를 통해 인간 존재를 너머의 타자를 이해할 수 있는지 탐구한다. 'la chambre cocon' (Cité internationale des arts, Paris, 2023)와 'between / of' (2022, The 5th Floor) 등을 기획했다.
 
*The 5th Floor는 2020년 2월 도쿄에서 개관한 대안공간이다. 과거 한 기업의 직원 기숙사로 쓰던 건물 5층에 자리 잡은 이 공간은 세 개의 방과 발코니를 활용하여 큐레토리얼 중심 프로그램을 선보인다. 국내외 큐레이터를 초청하여 큐레이터 레지던시를 운영하고, 자체 기획 및 초청 기획 전시, 워크숍 등을 진행한다.
https://the5thfloor.org/
https://www.instagram.com/t5f.tokyo/

• 영-한 순차 통역으로 진행됩니다.
• 사전 신청자 우선 입장을 원칙으로 합니다.
• 현장 등록이 가능합니다.

*본 프로그램은 연구 프로젝트 "콜렉티브: 확장하고 연결되는 공동체"(서울문화재단 예술연구활동지원 선정)의 일환으로 진행됩니다.
주최: 옐로우 펜 클럽 
문의: yellowpenclub@gmail.com

[Talk] Alternative Art Scene in Tokyo

November 15 (Wed) 7pm
YPC SPACE (4F 258, Toegye-ro, Jung-gu, Seoul)

YPC SPACE invites the alternative art space The 5th Floor's represenative director Tomoya Iwata to learn about Tokyo's independent art scene. Along with the introduction of the space, Iwata will discuss the history of the alternative art scene in Tokyo, which is shifting its paradigm from the "space" to "practic" and ultimately towards "multi-alternatives." Followed by Itawa's presentation, Yellow Pen Club will join the conversation around the current situation in the independent scene in Seoul and Tokyo.

*Tomoya Iwata (b. 1995, Aichi) completed MA from Graduate School of Global Arts, Tokyo University of the Arts. His research focuses on the history of the curatorial and the im/possibility of understanding others beyond human beings through exhibition practices. Currently the representative director of a curatorial space, The 5th Floor. Major exhibitions include la chambre cocon (Cité internationale des arts, Paris, 2023) and between / of (The 5th Floor, Tokyo, 2022).

*The 5th Floor is an alternative space that opened in February 2020 in Tokyo. They present ambitious curatorial-driven programs with the unique spaces of the three homogeneous but different rooms, and the balcony on the 5th floor of a former dormitory of a local company. They also support emerging artists and curators through Curator in Residence programs that invite curators both domestic and overseas, workshops with international curators and art workers, and educational programs along with self- or guest-curated exhibitions.